 Are you thinking about contact lenses or Ortho-K?


Now you can book an appointment with Dr.Lori for your Ortho-K or specialty contact lens fitting.
I had some difficulty finding my contact lenses in Vietnam. The customer service is excellent and they helped me find a great alternative. I am very satisfied.
Service and delivery is very good and fast!
I am very glad I can use contacts again when playing sports! Thank you for the excellent service.
The brand I used is not available in Vietnam so I switched to the housebrand AVEO. Very comfortable and saving me a lot of money too!



Ortho-K has changed my life!! I wear them at night so no more glasses during the day! It's amazing! I feel like a different person.

Thank you so much EUROPEAN EYE CENTER for giving me this solution!
During the lockdown they moved the world to get my contactlenses delivered ! I am very greatful!



Why contact lenses?


Full peripheral vision
Contact lenses are a good alternative for eyeglasses. They are worn directly on the cornea and correct refractive errors. Contact lenses provide a natural look and because they move with your eyes, they give you a full field of vision, wherever you look. Unlike glasses, where the frame limits your peripheral vision, contacts give you a clear and full peripheral vision, without an edge

Active lifestyle & sports
Contact lenses give you the freedom of movement, which is especially convenient in sports or otherwise active lifestyle. They don't get dirty easily, foggy or scratched and once you have them in, you will not leave them behind!
Change your personal style
Maybe you don't like the way you look with glasses or you just don't want to wear them on certain occasions, contact lenses are a great alternative to change your look. You can also change your eye color with colored contact lenses.
Correct your vision at night and see clear during the day
You can now wear ORTHO K contact lenses at night to correct your myopia and see clear, without glasses or contact lenses, during the day!
Different types of contact lenses


Disposables
There are different types of contact lenses. The most commonly used are soft contact lenses. They are soft and flexible and allow oxygen to reach the cornea. Soft contact lenses can be daily disposables (more expensive, but lower risk of infection), 2-weekly or monthly disposables.
Monofocal or multifocal
Monofocal lenses correct only one refractive error like myopia (nearsightedness), hyperopia (farsightedness), astigmatism (distorted vision) or presbyopia (need for reading glasses).
Multifocal lenses are for people who need correction for reading and distance at the same time.
Toric
Toric contact lenses correct astigmatism.
Colored lenses
Colored lenses allow you to change your eye color and create a look that's subtle, bold or anything in between- whether you want to enhance your everyday look or rock a crazy design for Halloween. They are available with correction or plano (with no corrective power.
Ortho K lenses for myopia (Dream lens)
Ortho K lenses reshape / flatten your cornea at night. You take them out in the morning and you can see clear the rest of the day.
First time users, see an eye doctor first
If you are thinking about using contact lenses, but have never used them before, you should see an eye doctor first. A good contact lens fit, starts with a thorough eye exam to ensure the most up-to-date prescription and rule out any pre-existing conditions that could interfere with contact lens wear. Contacts come in different materials, shapes and strengths that don't match the prescription for your glasses. It is important to find the right prescription and fit lenses exactly to your eyes.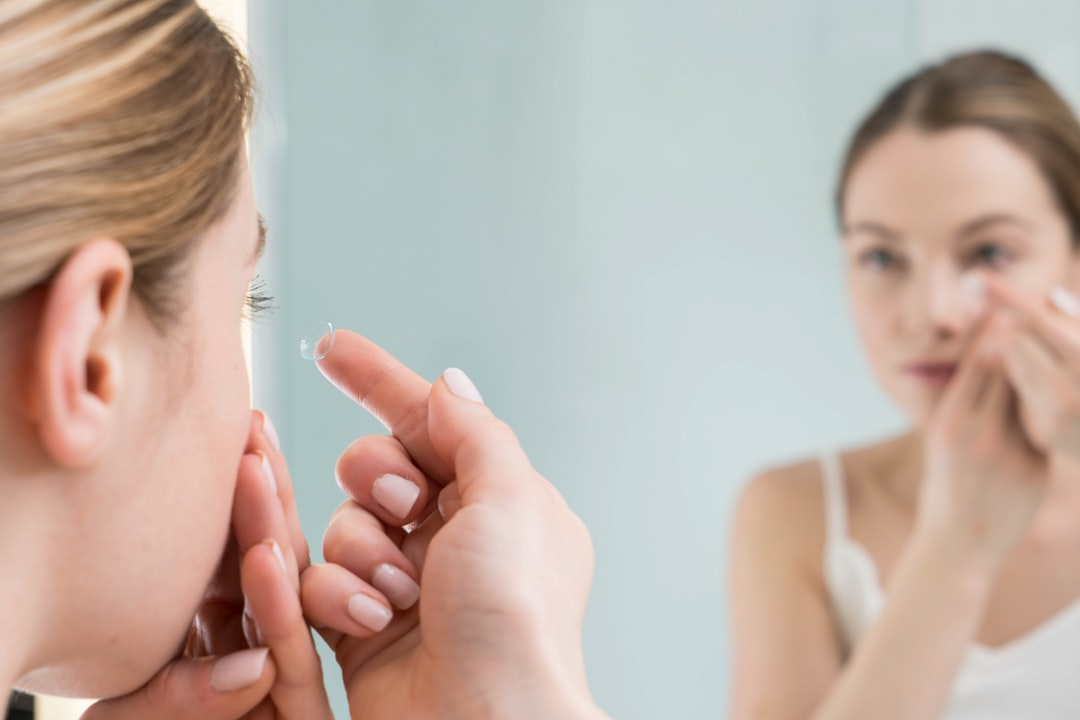 See our eye doctor at the European Eye Center, D2, HCMC
At the European Eye Center in Thao Dien, D2, HCMC, we will determine the best fitting lens based on your lifestyle needs and the shape and health of your eye. In most cases, you'll have the opportunity to try lenses on the same day as your exam, if you have a common prescription. We follow up the initial fitting and make changes when necessary. We teach all our patients proper lens care and also possible consequences if proper care is not taken.

If you are a contact lens wearer, remove your contacts and visit your ophthalmologist when you have any of the following symptoms:

Your eye is red

Your eye is painful

You are sensitive to light

You have discharge from your eye

You have blurry vision

Your eye feels scratchy